Chelsea FC Squad, Team, All Players 2022
Here we have the full Chelsea FC Squad, Team, All Players 2022 list. We have included the squad from previous years too if you want to take a trip down memory lane. But first, we have the Chelsea FC Squad, Team, All Players 2022/23 list. Watch & Bet Here =>

Chelsea FC 2022 Squad – First Team 2022
Chelsea FC new player in and out 2022. Here is Chelsea FC First Team Squad 2022.
Chelsea FC Squad, Team, All Players 2022
#
Players & Positions
Date of birth / Age
Contract
Market value
16
Edouard Mendy
Mar 1, 1992 (30)
 

30-Jun-25

€32.00m
Goalkeeper
1
Kepa Arrizabalaga
Oct 3, 1994 (27)
 

30-Jun-25

€10.00m
Goalkeeper
13
Marcus Bettinelli
May 24, 1992 (30)
30-Jun-23
€2.00m
Goalkeeper
26
Kalidou Koulibaly
Jun 20, 1991 (31)
 

30-Jun-26

€35.00m
Centre-Back
14
Trevoh Chalobah
Jul 5, 1999 (23)
 

30-Jun-26

€20.00m
Centre-Back
44
Ethan Ampadu
Sep 14, 2000 (21)
 

30-Jun-24

€13.00m
Centre-Back
6
Thiago Silva
Sep 22, 1984 (37)
 

30-Jun-23

€2.50m
Centre-Back
21
Ben Chilwell
Dec 21, 1996 (25)
 

30-Jun-25

€38.00m
Left-Back
32
Marc Cucurella
Jul 22, 1998 (24)
 

30-Jun-28

€28.00m
Left-Back
3
Marcos Alonso
Dec 28, 1990 (31)
30-Jun-23
€12.00m
Left-Back
–
Abdul-Rahman Baba
Jul 2, 1994 (28)
 

30-Jun-24

€2.20m
Left-Back
24
Reece James
Dec 8, 1999 (22)
 

30-Jun-25

€60.00m
Right-Back
28
César Azpilicueta
Aug 28, 1989 (33)
 

30-Jun-24

€9.00m
Right-Back
5
Jorginho
Dec 20, 1991 (30)
 

30-Jun-23

€40.00m
Defensive Midfield
7
N'Golo Kanté
Mar 29, 1991 (31)
 

30-Jun-23

€40.00m
Defensive Midfield
8
Mateo Kovacic
May 6, 1994 (28)
 

30-Jun-24

€42.00m

Central Midfield

23
Conor Gallagher
Feb 6, 2000 (22)
30-Jun-25
€25.00m
Central Midfield
12
Ruben Loftus-Cheek
Jan 23, 1996 (26)
 

30-Jun-24

€20.00m
Central Midfield
–
Ross Barkley
Dec 5, 1993 (28)
30-Jun-23
€12.00m
Central Midfield
–
Billy Gilmour
Jun 11, 2001 (21)
 

30-Jun-24

€12.00m
Central Midfield
30
Carney Chukwuemeka
Oct 20, 2003 (18)
 

30-Jun-28

€6.00m
Central Midfield
–
Cesare Casadei
Jan 10, 2003 (19)
30-Jun-28
€1.00m
Central Midfield
–
Kenedy
Feb 8, 1996 (26)
30-Jun-24
€7.00m
Left Midfield
19
Mason Mount
Jan 10, 1999 (23)
 

30-Jun-24

€75.00m
Attacking Midfield
29
Kai Havertz
Jun 11, 1999 (23)
 

30-Jun-25

€70.00m
Attacking Midfield
22
Hakim Ziyech
Mar 19, 1993 (29)
30-Jun-25
€28.00m
Attacking Midfield
17
Raheem Sterling
Dec 8, 1994 (27)
 

30-Jun-27

€70.00m
Left Winger
10
Christian Pulisic
Sep 18, 1998 (23)
 

30-Jun-24

€42.00m
Right Winger
20
Callum Hudson-Odoi
Nov 7, 2000 (21)
 

30-Jun-24

€25.00m
Right Winger
18
Armando Broja
Sep 10, 2001 (20)
 

30-Jun-26

€22.00m
Centre-Forward
–
Michy Batshuayi
Oct 2, 1993 (28)
 

30-Jun-23

€10.00m
Centre-Forward
Chelsea FC current squad 2022
The Chelsea line up 2022/23 season will consist of these players. Below you will find all Chelsea goalkeepers, defenders, midfielders and forwards.
Chelsea FC Goalkeepers
Edouard Mendy
Kepa Arrizabalaga
Marcus Bettinelli
Chelsea FC Defenders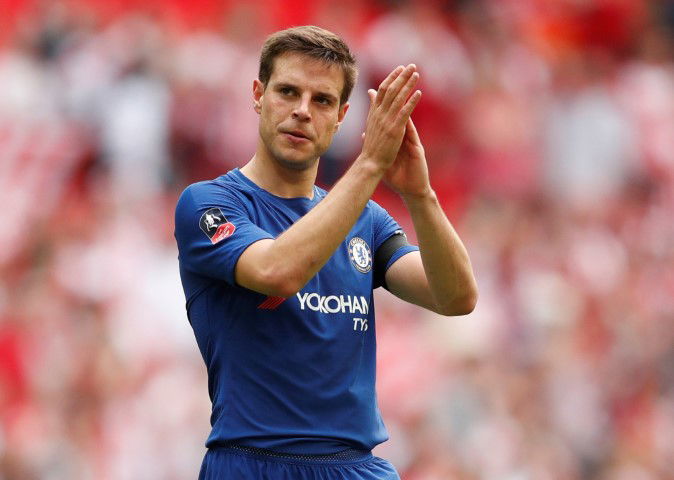 Kalidou Koulibaly
Trevoh Chalobah
Ethan Ampadu
Thiago Silva
Ben Chilwell
Marc Cucurella
Marcos Alonso
Abdul-Rahman Baba
Reece James
César Azpilicueta
Chelsea FC Midfielders
Jorginho
N'Golo Kanté
Mateo Kovacic
Conor Gallagher
Ruben Loftus-Cheek
Ross Barkley
Billy Gilmour
Carney Chukwuemeka
Cesare Casadei
Kenedy
Mason Mount
Kai Havertz
Hakim Ziyech
Chelsea FC Strikers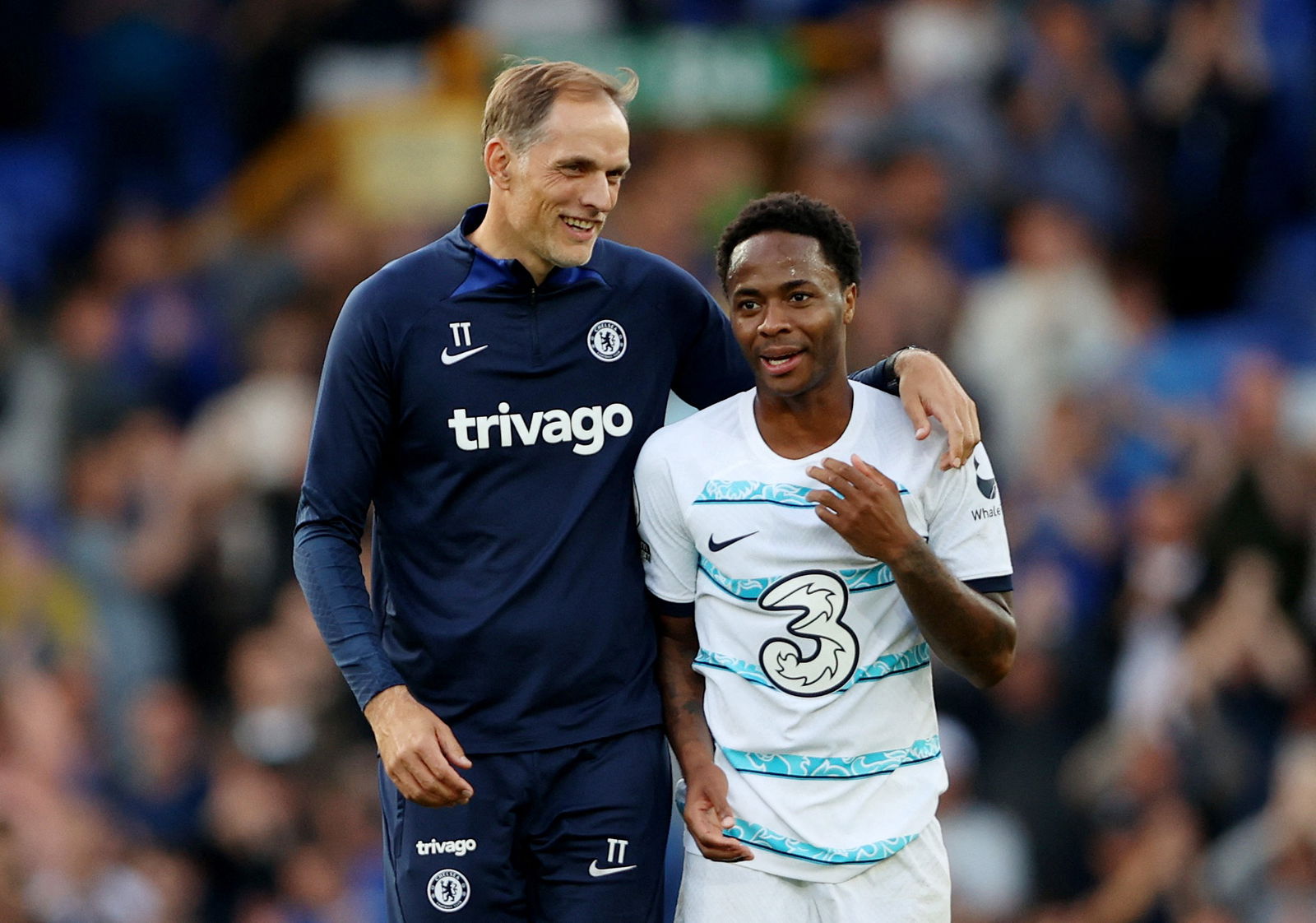 Raheem Sterling
Christian Pulisic
Callum Hudson-Odoi
Armando Broja
Michy Batshuayi
Chelsea FC Squad 2022 – First Team 2022/23
Chelsea FC new player in and out 2022. Here is the Chelsea FC First Team Squad 2022. Chelsea FC new player in and out 2022. We have the Chelsea FC First Team Squad 2022. Here is where you will find the full Chelsea FC Squad for the 2022/23 season. You can view other Chelsea articles here, such as viewing Chelsea's kits for the 2022 season.
Tuchel has taken over the reins at the Bridge and has now signed 6 new players already for the 2022/23 season. Marc Cucurella, Raheem Sterling, and Kalidou Koulibaly are all expected to make big inroads!
Previous seasons:
2021/22 season was a decent one because fans expected them to fire after the UCL triumph. They started very well and topped the table and failed to retain it in the second half of the season. Blues got two chances to win silverware in FA Cup and League Cup but lost to Liverpool in final.
2020/21 was a great season considering the European success. They finished in the top four but the best part was Champions League success under new manager Thomas Tuchel who replaced Frank Lampard just few weeks ago.
2019/20 was a good season for Chelsea. After losing Hazard, Luiz, Cahill, and getting a transfer ban, the Blues managed to get a top four finish. They played a lot of their academy stars and Mount and Abraham and James were the outstanding ones. Pulisic also showed his potential!
2018/19 season was a rather mixed season for the Blues. They finished third in the league only behind the big two of Liverpool and Manchester City. In the Carling Cup, they reached the finals and in the FA Cup they got knocked out early by Manchester United. However, their biggest win came in the Europa League where they beat Arsenal 4-1 in the final to lift the trophy.
The Blues were also introduced to a new style of football by Italian boss Maurizio Sarri. The Italian was however, not famous for his relation with the fans as he was very stubborn about his ways even in tough times. This saw Sarri feel frustrated by the Chelsea job and he left the club in search of greener pastures once Juventus came knocking.
The 2017/18 season before that under Conte was not a good one either. The Blues finished fifth in the league and missed out on Champions League football. In CL itself, they were knocked out in the round of 16 by Barcelona. In the FA Cup however, Antonio Conte broke the record he held of not winning knockout competitions by getting his hands on the FA Cup silverware.
The year before. 2016/17 was a very successful season for Chelsea FC. They reached the FA Cup final, and most importantly, won the Premier League in their first season managed by Antonio Conte. There were doubts at the beginning of the season that Conte was the right man, after losses to rivals Arsenal and Liverpool. However, after a change of formation, Conte had a very successful season and in the end, Chelsea ran out comfortable winners of the league.
Of course, 2016/17 season they had no European football after a poor 2015/16 season. This meant they had fewer games than most of their rivals and players had more recovery time between each game. In the long run, this probably helped them but this season will be different. Having qualified for the Champions League group stages, most weeks they will be playing two games per week.
Last to last season, however, Conte's tactics completely fell apart as the manager could not lead his team to defend their title. Later the manager fell out with the board and was finally shown the door and Napoli manager Maurizio Sarri entered the scene. Though he started well with his new "Sarri Ball" tactics, the Blues failed to live up to the expectations midway through the season with Sarri being criticised for his tactical changes by fans and experts alike. Chelsea called their former player Frank Lampard to take the job.
Frank did a brilliant job on the team by introducing big changes to the team. He got in players like Fikayo Tomori, Tammy Abraham and Mason Mount, Chelsea youth academy graduates all of them. These players got a good chance now to prove themselves and they took their opportunities well.
In the face of a transfer ban, it was this attitude by Frank Lampard that made him an even bigger fan favourite than he already was. The Blues had exciting young players up front in the likes of new American signing Christian Pulisic and Callum Hudson Odoi while old heads like Pedro and Willian are also in the mix. Tammy Abraham not only led the Chelsea front line but also topped the scoring charts in the Premier League.
If we come back to the current season in 2022/23, Chelsea needed a big boost in defence. Their two best defenders Andreas Christensen and Antonio Rudiger left the club. Azpi was handed an extension. Raheem Sterling and Kalidou Koulibaly were two top signings for the club. The first month was not so good but Tuchel's side would look to maintain their UCL qualification. This season might be tough as last season's 5th and 6th placed Arsenal and Man United can trouble the top-four game.
Watch & Bet Here =>

SEE MORE: